O2 were sent a number of email support requests on a variety of topics involving SIM only contracts and we have collated and reviewed their responses in order to provide an objective review of their online customer support.
Online Customer Services Rating For O2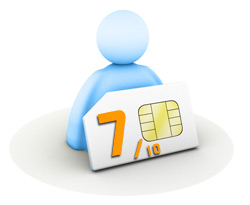 Customer Support in Detail
How easy is it to submit a support request email?
It is fairly easy to locate the support area on the O2 website in order to send a support request. Quite simply it is a case of clicking on the "contact us" link, then selecting the applicable radio button (in our case "Or if you're not an O2 customer but have a question"), and finally completing the query form and hitting send.
How long did it take to get responses?
The average time it took for our email to be answered was 1 day.
Were the questions answered?
We were not satisfied with the answers of the support team because most of the time we were simply told that they were unable to help with the queries and that we should instead phone them.
Were the replies coherent?
Replies were clearly templated, but they made sense (even though they were little help).
Overall experience?
The actual mechanics to send a support email to O2 is fine and the turnaround time for responses is very good. However, the actual help provided by the support team was poor. Other mobile networks were able to provide answers to our queries by email so why weren't O2 able to do this?
Do you have an O2 customer service review to add?
If you would like to submit a review of O2 online customer services please click on the link below and we will publish your review on our site (subject to decency and a lack of defamatory content, etc).
Click here to submit your O2 customer services review
User-submitted O2 Customer Services Reviews.
I've had to call O2 on several occasions with regard to queries on both their mobile service and their home broadband products and I have to say I've always been very impressed. I have never contacted them by e-mail though, all communications with O2 have been by phone.

Typically speaking, calls are always answered almost immediately and handled courteously and efficiently by well-trained and knowledgeable staff and they've been able to deal with any iPhone problems that I've raised on the first call. It's been a really pleasant experience, particularly coming from Orange who seem to have a better network but whose customer service is at best a hit-and-miss experience – mostly the latter!

Unfortunately I've recently had to leave O2 broadband because my BT line is temperamental and Virgin cable services were the only other option. This by no means any reflection on O2's service which has always been reliable and has been backed up by superb technical support. Even the cancellation only took 5 minutes and there was no hard-sell when I tried to leave. I'll be keeping my mobile with them though – it's good to know I can get the support and backup that I need, when I need it – and with the minimum amount of fuss or timewasting!

One of their biggest differentiatiors is that they keep you informed of any issue or order status by text, e-mail and also by phone where necessary – they are a very proactive company, which makes a pleasant change.

LW. E-mail address supplied.